Sea Gardens
Luxury Villas

DESIGN · QUALITY · ENVIRONMENT
Nerja's quintessential new exclusive development
Sea Gardens is a small residential complex of contemporary, detached residential homes built on three levels and featuring magnificent open plan living areas, floor-to-ceiling windows across the front façades offering fantastic views, private gardens & beautiful illuminated swimming pools.
Their modern and attractive design, together with a south facing aspect, offer a uniqueness and elegance in one of the most desired areas of Nerja. All of the properties offer three en-suite bedrooms and the layouts have been specifically designed to allow the owner a certain amount of freedom to alter the interior design - perhaps personalising a 3 bedroom property to become an immense 2 bedroom home with expansive central living area or an impressive master bedroom suite.

After the highly successful launch and complete sale of SEA GARDENSNerja's unique residential complex, the second phase of SEA GARDENS is now being released for sale by LUAL.
The second phase will comprise 9 luxurious south facing villas, offering exceptional views towards the sunrise and sunset, thanks to their elevated position. SEA GARDENS II provides the opportunity to enjoy a luxurious lifestyle in one of Nerja's most sought after locations.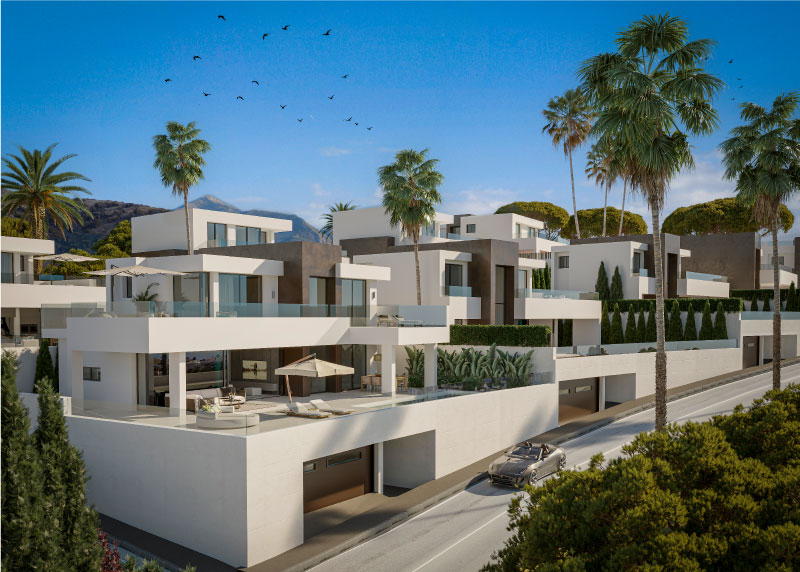 Superbly located in the desirable Chimenea area, just minutes from the town centre of Nerja and conveniently situated a short distance walk from the stunning Burriana beach, with its many shops, cafés and restaurants.
Nerja is one of the most sought after destinations in the Costa del Sol with 13km of beaches. Once a charming fishing village, Nerja retains its traditional charm with narrow streets, whitewashed houses and typical plazas and offer all of the modern amenities with numerous street side cafes, tapas bars and a wide variety of restaurants. Nestled at the foothills of the Sierra Almijara Nerja enjoys a microclimate, boasting more than 320 days of sunshine a year, making it one of best places to live in Europe.
Take time to enjoy the views of the sparkling Mediterranean and the beautiful outdoor spaces with 320 days of sunshine from sunrise until sunset, private swimming pools, well thought out landscaping and lawned gardens providing residents with an oasis away from the hustle and bustle of the town centre.

Once inside the property, you will be overwhelmed by the abundant natural light and amazing sense of space.

The bedrooms have been intentionally positioned to enjoy the same south facing aspect and views as the living areas.
let the mediterranean light flood in
OUR VILLAS |
9 exclusive private homes

clean minimalist lines and open layouts
Open-plan, an entrance hall with high ceilings welcomes us to a great stay of lounge with a dining room and large kitchen. Floor to ceiling doors run the length of the lounge, offering panoramic views and providing incredible light. These open up onto a covered porch leading out onto an outdoor terrace, garden and luxurious swimming pool. To the right of the living area we find a guest bedroom with a guest bathroom. A car port large enough for two cars, accessed via double automatic doors, is located to the side of the villa.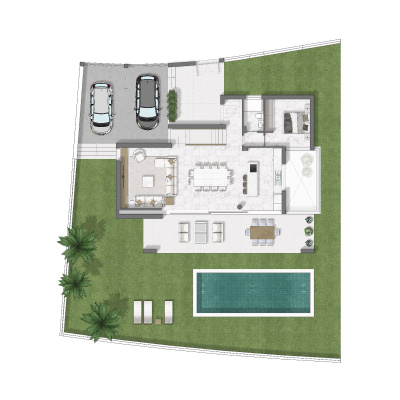 A suspended staircase with glass balustrade leads up to the top floor and master bedroom and spacious suite-facilities with a large dressing room, bathroom & floor to ceiling windows leading out onto a large a private terrace with panoramic views, to the left is a guest bedroom with en-suite bathroom, fitted wardrobes and patio doors leading out onto a terrace.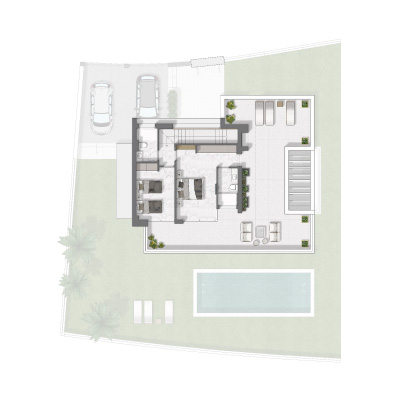 A multi-purpose residential area, illuminated by an indoor courtyard that can be used as a wine cellar, studio, work zone or a laundry room.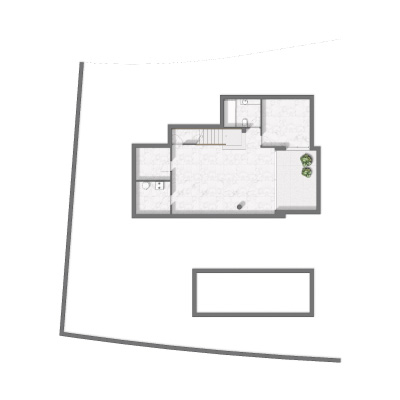 A garage with parking for two cars and a multi-purpose area with an indoor courtyard that could be used as a cellar, complementary guest room or a space for laundry. A lift from this floor communicates with the main living area and the upper floor.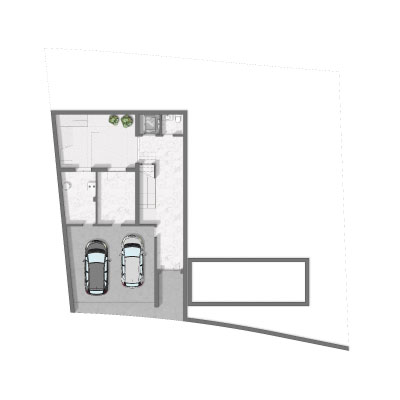 A wide stairwell with high ceilings leads up to a fantastic open plan living space of lounge, dining area and a spacious kitchen. Floor to ceiling doors run across the entire length of the southern façade, flooding the living area with natural light. These open on to a covered porch, ideal for 'al fresco dining', leading out onto an outdoor terrace, garden and beautiful illuminated swimming pool. A guest bedroom with fitted wardrobes and a guest bathroom are located on the right.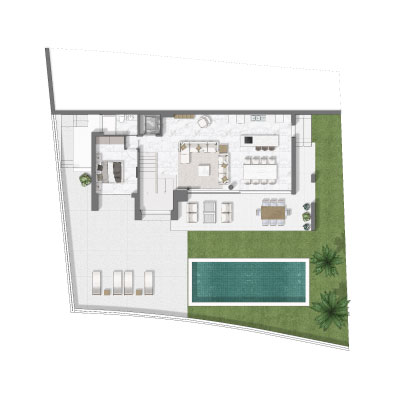 The lift and staircase divide this floor into two areas, a guest bedroom with en-suite bathroom & private terrace is located on the left and to the right stands the master bedroom offering beautiful suite facilities, a large dressing room, bathroom & a private terrace with stunning views. A door from this area leads out onto the rear garden.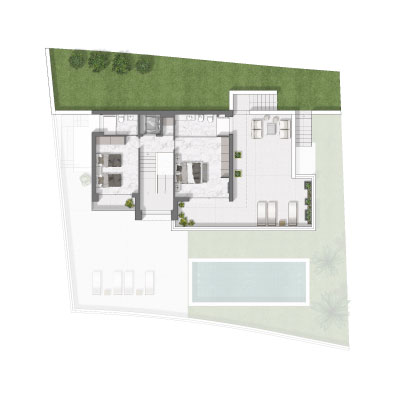 Non-contractual and merely illustrative images and texts are subject to technical, legal or commercial modifications by the project management or competent authority. The infographics of the façade, common elements and other spaces are indicative and may be subject to verification or modification in the technical projects. The furnishings of the interior infographics are not included and the equipment of the dwellings will be as indicated in the corresponding specifications. All information and delivery of documents will be made in accordance with the provisions of Royal Decree 515/1989 and other regulations that may complement it, whether of a state or regional nature.
Conoce y descarga los planos de cada uno de los modelos de plumaria que serán edificadios en esta segunda fase de Nerja Sea Gardens. 
La documentación gráfica que aparece en este plano comercial es ortientativa y exclusivamente informativa. No forma parte de ningún acuerdo contractual y el contenido visual y escrito puede ser modificado y/o sustituido por exigencias técnicas de la direcciín facultativa o de la empresa promotora derivadas del Proyecto de Edificación y su ejecución.
If you wish, you can visit our sales office and we will attend you personally, or contact us by phone, e-mail or in our contact section.